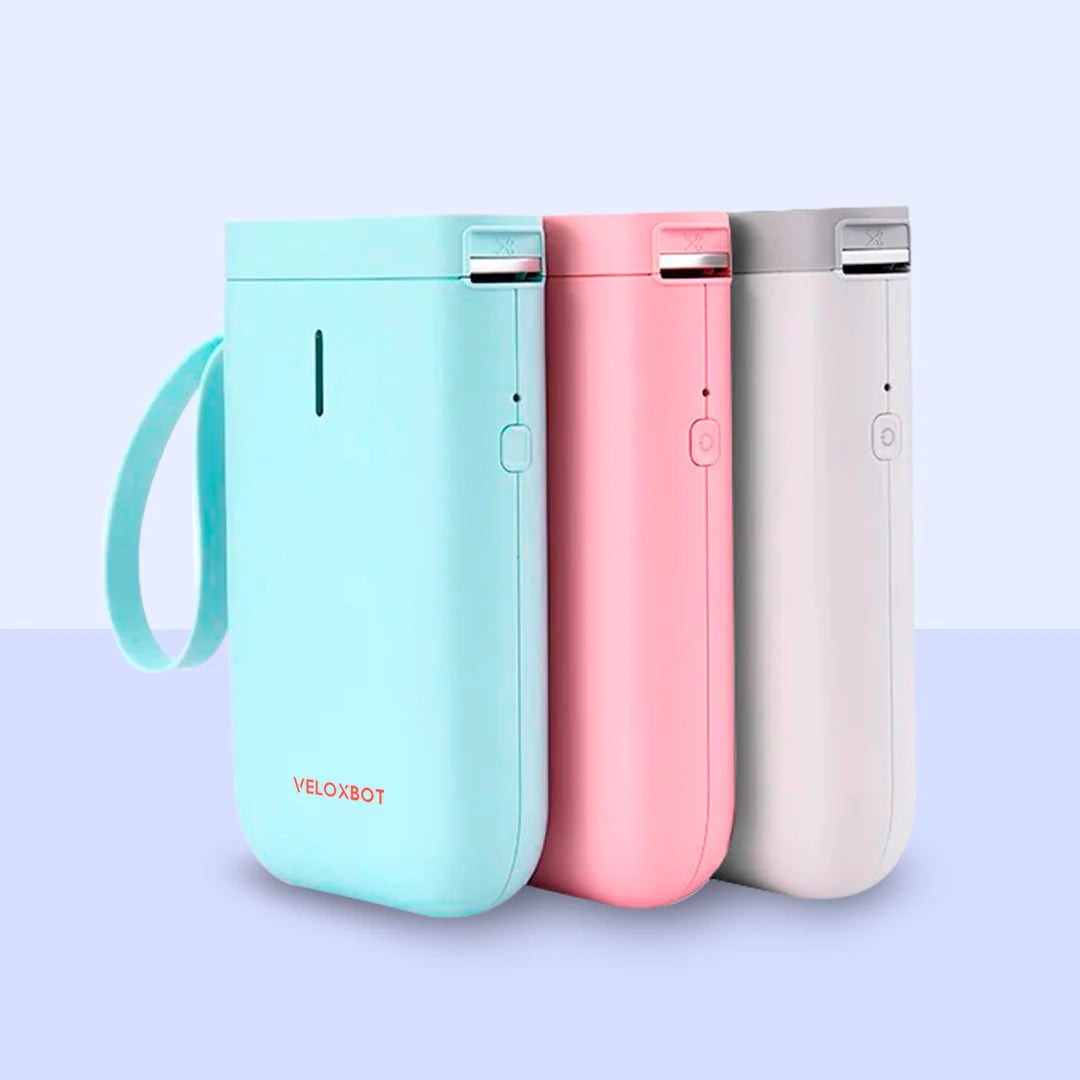 If you'restruggling with clutter and organization,you know how important it is to have a reliable and efficient label maker. And if you haven't already made the switch to the Veloxbot thermal label printer, you're missing out on some major benefits.
Veloxbot is the leading thermal label printer for small business owners, busy moms, or literally anyone looking to get their life in order!  With advanced technology and cutting-edge features, Veloxbot's thermal label printers are the perfect solution for all your labeling needs.
What's even better is that it connects directly to your smartphone or tablet via Bluetooth. With the easy-to-use VeloxBot app, you can quickly design and print labels from your phone or tablet. This means no more struggling with complicated software or worrying about compatibility issues. 
The Veloxbot app provides endless options to get creative with your labels and organizing.
Generate QR codes and Barcodes for your labels

Upload images from your photos onto your labels

Create Price tags and serial numbers

Make adorable designs and stickers

Tons of icon options and design elements
And the best part? The VeloxBot app is FREE! So you can start using it right away without worrying about any additional costs.
Don't settle for old and unreliable label makers. Upgrade to theVeloxBot Thermal Label Maker and experience the convenience and ease of organizing your life with the touch of a button. Order now and take advantage of our special introductory offer.
Benefits
Easy-to-use
Traditional label printers can be prone to jams and malfunctions, butVeloxbot, prints accurately and without any issues.
Cost-effective
Save money with Veloxbot! Because Veloxbot uses heat to print the labels, there is no need to buy ink or toner!

Light and Portable
Not only is theVeloxBot fast, but it is also light-weight and portable. Take it with you wherever you go and label everything around the house or office.

No Mess
Since there is no ink required, this means no more smudging, messy cartridges, or running out of ink at the worst possible time.

Rechargeable
With a large capacity rechargeable lithium battery, the Veloxbot label printer works for up to 4 hours continuous use. No need to constantly buy and replace batteries! 
Testimonials
"Veloxbot is a game-changer. We used to spend hours printing labels, but now we get them done in minutes. Plus, it saves a lot not buying ink and toner!" - Sarah

"Veloxbot is incredibly fast and accurate, and we've had zero issues with jams or malfunctions. Extremely satisfied with our purchase and recommend it to anyone looking for a reliable label printer." -John

"My old label maker had a million buttons and it was tough to use. This uses a simple app, and just works! Bluetooth connection happens in seconds. Printer is Fast. Great quality. Very happy!" -Scott
Key takeaways 
When it comes to label printers, there are a lot of options on the market. But when you compare Veloxbot's thermal label printer to traditional inkjet or laser printers, the advantages are clear.
Speed: Traditional printers can be slow and time-consuming, with print speeds of just a few labels per minute. But with Veloxbot's thermal printer, you can print hundreds of labels in just minutes.

Accuracy: Traditional printers can be prone to errors and misprints, which can be costly and time-consuming to fix. Veloxbot's delivers accurate and precise labels every time.

Cost: Traditional printers require ink or toner, which can be a major expense for businesses. With Veloxbot's thermal printer, there's no need for ink or toner, which means significant cost savings over time.
For a limited time only, we're offering over 60% off, But this offer won't last forever, so act now to take advantage of these amazing savings!
With lightning-fast speed, durability, and cost-effectiveness, a thermal label printer from VeloxBot is the perfect solution. And with this incredible offer, there's never been a better time to upgrade your labeling process.

So don't wait, take advantage of this amazing deal and get your hands on one of the best label printers on the market at an unbeatable price. Click the link below to order your VeloxBot thermal label printer today and start enjoying the benefits of faster, more efficient labeling. But hurry, this offer won't last forever!